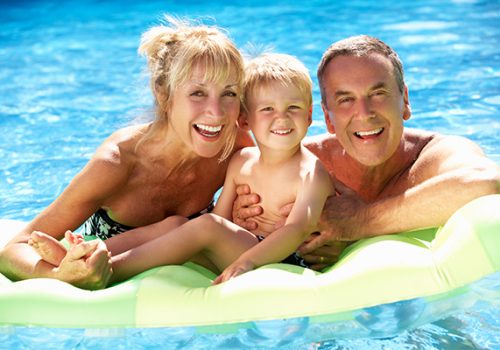 Stay Refreshed All Summer Long
Our refreshing and relaxing pool is the best way to beat the summer heat and stay cool. Pool memberships are annual, and they are separate from our golf memberships.
Pool members enjoy unlimited seasonal pool access, access to social events and club activities, the ability to bring guests at a set daily rate, and club account charging privileges. Membership pricing:
• Individual  |  $300/season – one person
• Family  |  $500/season – shared address
• Couple  |  $400/season – married couple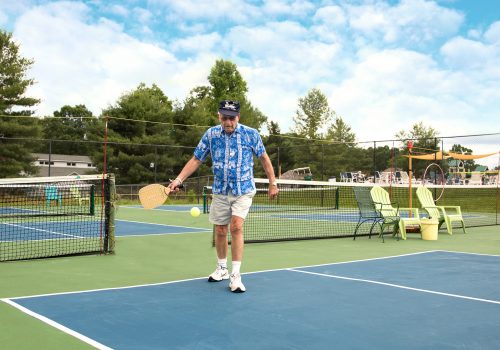 Hit the Courts for Some Fun
Ivy Hills' six pickleball courts are available with select memberships. Pickleball is a game similar to tennis in which you use paddles to volley a small plastic ball over a central net. Pickleball is relaxing, but has just enough competitive edge to keep you on your toes! Whether you are a child or a senior, pickleball is fun for all ages. Click below to explore the rules of pickleball.
Clubhouse & Pro Shop
Ivy Hill Golf Club's newly renovated clubhouse contains a relaxing lounge, an expansive Pro Shop, and our refreshing bar and café. The bar and café serves cold drinks and artisan sandwiches daily, delivered fresh to your table after a long round of golf. Our expansive Pro Shop offers everything a golfer could need, and is staffed by Eddie Moran, our in-house PGA Head Gold Professional.
Ivy Hill Golf Club accommodates not only golfers and club members, but also weddings and other special events and celebrations. Our spacious Pavilion at Ivy Hill provides enough room for around one hundred guests. This elegant space may be rented out for parties, anniversaries, retirements, weddings, birthdays, or any other meaningful celebrations.
Keep Up to Date with Us on Social Media
To see all of our latest news, like our page on Facebook! We will keep you posted with upcoming events, the latest improvements to the club, and highlights of all that happens here at Ivy. Be sure to follow us so you do not miss out!
Course Membership
All the options you need to make the most of Ivy Hill
If you're looking to be a part of a lively and thriving golf community, then look no further. Ivy Hill offers the perfect blend of golf, friendly atmosphere, luxury, and community. We want your experience at Ivy Hill Golf Club to be the best experience possible. For this reason, we offer a vast array of convenient and affordable memberships that allow you access to our friendly golf community. Click below to discover more about our membership options, and explore how you can be a part of this thriving community.