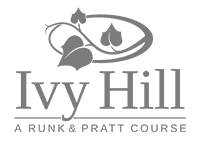 Whether you are just starting out or looking to take your game to a whole new level, Ivy Hill's on-staff experts will provide the coaching you need to help you reach your golf goals. To learn more about individual or group golf instruction contact our pro shop.
GOLF INSTRUCTION
at Ivy Hill
Our golf professional works with golf students to identify areas of strength and weakness and creates a custom lesson plan for each student. Lesson plans and evaluations are created based on student need and development.
To schedule lessons, please call the Ivy Hill Pro Shop.
434.525.2680